Concept Note
As India begins its preparation for the 18th General Elections planned in the first half of 2024, the South Asian region is enveloped in a palpable sense of apprehension. The uneasiness relates to a conspicuous history of inexplicable events which have preceded past Indian general and state elections enabling India to play the 'national security card' directed against Pakistan. The aim of such moves is invariably to draw political mileage at the domestic front. Unfortunately, due to India's internal dynamics, the ploy has worked each time. Regional security, and sanity, of course, have been the casualties on every occasion. Whether it was the Mumbai attack in 2009, the drama of a 'surgical strike" in 2016, or the Pulwama incident in 2019, the incumbent governments in India have always benefitted from such events which tend to provoke anti-Pakistan sentiments in the Indian public.
As if to kick off the election campaign, the Indian Defence Minister recently indulged in highly provocative statements against Pakistan. As we draw closer to the election date, one expects more coercive outbursts from the Indian civil and military leaders, peppered by a few managed/orchestrated 'incidents' which are likely to provide an excuse for escalatory measures in other domains. The Indian media, as usual, is likely to go into a frenzy, with its warmongering rhetoric. The situation perfectly fits BJP's electoral politics and its bid to power one more time.
Against this backdrop, this seminar was organised by the Centre for Aerospace & Security Studies (CASS), Islamabad, to provide a platform for in-depth discussions and knowledge sharing on anticipated Indian pre-polls trajectory on the basis of its history and current policies. The seminar identified challenges to regional stability in the wake of Indian actions and charted out recommendations in this regard.
Press Release
News Coverage
Newspaper Links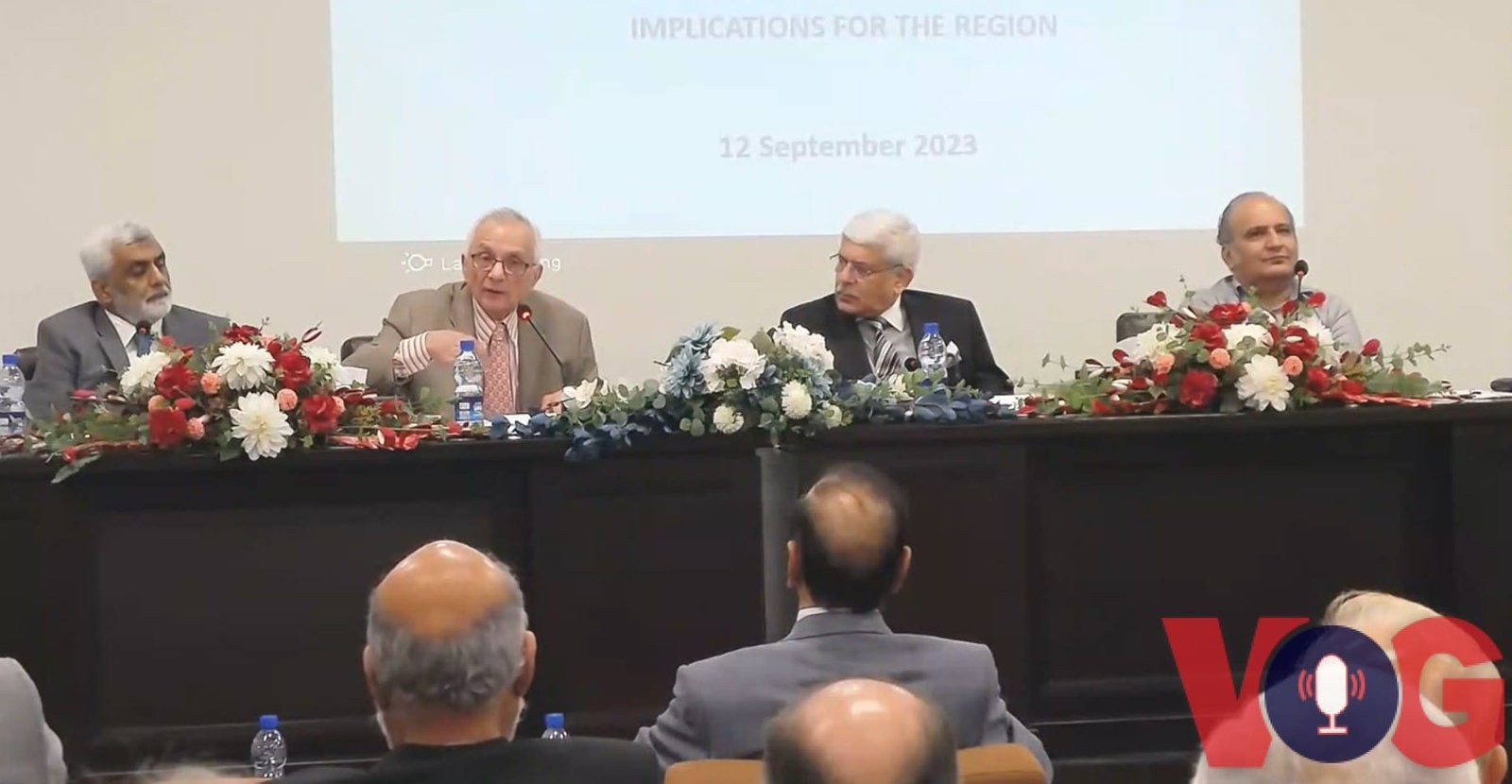 VOG Urdu|انڈین الیکٹورل پولیٹکس پرانڈیا کی پری پول ڈائنامکس اینڈ امپلیکشنز فار دی ریجن' کے موضوع پر ایک سیمینار کاانعقاد کیا
اسلام آباد پاکستان(نمائندہ وائس آف جرمنی):‌سینٹر فار ایرو اسپیس اینڈ سیکیورٹی اسٹڈیز (CASS)، اسلام آباد نے 'انڈین الیکٹورل پولیٹکس پرانڈیا کی پری پول ڈائنامکس اینڈ امپلیکشنز فار دی ریجن' کے موضوع پر ایک سیمینار کاانعقاد کیا۔
سیمینار کاانعقاد CASS | Al Fajr News
اسلام آباد(الفجرآن لائن)سینٹر فار ایرو اسپیس اینڈ سیکیورٹی اسٹڈیز (CASS)، اسلام آباد نے 'انڈین الیکٹورل پولیٹکس: انڈیا کی پری پول ڈائنامکس اینڈ امپلیکشنز فار دی ریجن' کے موضوع پر ایک سیمینار کاانعقاد کیا۔
بھارت کی پری پول ڈائنامکس اینڈ امپلیکشنز فار دی ریجن کے موضوع پر سیمینار | NBTV
سینٹر فار ایرو اسپیس اینڈ سیکیورٹی اسٹڈیزکے تحت اسلام آباد میں منعقد کیا گیا سیمینار میں ماہرین تعلیم، مسلح افواج کے ریٹائرڈ افسران، پالیسی سازوں، محققین، اور میڈیا کے پیشہ ور افراد سمیت متعدد افر…