Concept Note
The 'National Security Policy of Pakistan (NSP) 2022-2026' lays great emphasis on ensuring non-traditional aspects of security, commonly referred as human security. The essential elements of human security include personal, community, political, food, health, economic and environmental security. While each element is extremely important for the well-being of people, food security is perhaps the most critical element of the non-traditional dimension of national security.
Pakistan being the fifth largest state in the world, and a predominantly agri-based society, unfortunately faces serious concerns of food insecurity for various reasons. The population growth rate has been a little over 2 percent for the last two decades, and hence reached over 237 million in 2022. Availability of water and climate change have only compounded the problem. Various studies have concluded that Pakistan could experience water scarcity by 2025 and become the most water-stressed country in South Asia by 2040.
Moreover, lack of proper yields of nearly all the cash crops are negatively affected by poor water management, climate change, and extreme weather conditions. Whereas efforts are in hand to improve farming processes through modern methods, better seeds development, and resource management, Pakistan still has a long way in ensuring food security for its growing population at an affordable cost.

Moreover, four decades long wars and conflicts in Afghanistan have had a toll on Pakistan's resources, particularly agricultural produce, thereby draining its resources through smuggling and movement through illegal channels. The cumulative effect of population growth and smuggling has led to higher demands of food products, thus causing inflation of essential food items, contributing to hunger and poverty. The ongoing Ukraine War has further complicated the food supply chain across the globe.

In order to bridge the gap between supply and demand of essential food products, Pakistan has to regularly import wheat, sugar, palm oil, tea, and various pulses, which are a serious cause of food insecurity on two fronts. One, Pakistan has to pay in already scare foreign currency, thereby adding to the current account deficit at alarming levels. Two, inability to fill the gap may lead to extreme poverty, thus, making citizens vulnerable to exploitation, because over 20 percent of the population is undernourished, 44 percent of the children under five are stunted, and nearly 40 percent of the population is facing food insecurity in Pakistan. In fact, the situation has deteriorated over the last decade, and Pakistan ranks 99th out of 121 countries on the Global Hunger Index (GHI), which is considered serious. In neighbouring India, 41 percent people suffered moderate to severe food insecurity in 2019-21, and the country ranks 107th on the same scale.
In view of the importance of the subject, CASS organized a seminar on 'Food Security for Pakistan' to highlight its significance in ensuring human security of which food security is one of the most important elements. The specific objectives and questions that CASS aims to raise and find answers from the distinguished panel are:
Undertake a critical appraisal of food security and its impact on Pakistan's social development and national security.
Evaluate the availability of water for food security, and criticality of water security as a contributor to food insecurity in Pakistan.
Analyse climate change and its impact on Pakistan's food security.
What are the governance related factors that cause food security issues?
From a policy and governance viewpoint, what steps are required to ensure sustainable growth in the country's agricultural output to match its population growth?
Moderator: Dr Zia Ul Haque Shamsi, Director, Peace & Conflict Studies, Centre for Aerospace & Security Studies, Islamabad
Keynote Speaker: Syed Fakhar Imam, Former Federal Minister, Ministry of National Food Security and Research, Government of Pakistan
Role of Agriculture Sector and Food Security in Pakistan
Speakers:
Dr Abid Qaiyum Suleri, Executive Director, Sustainable Development Policy Institute, Islamabad & Convenor National Coordination Committee on Prime Minister's Agriculture Transformation Plan
A Critical Appraisal of the Food Security Situation and its Impact on Social Development of Society / National Security
Mr Ashfaq Mahmood, Former Federal Secretary for Water and Power, Government of Pakistan
Availability of Water for Food Security of Pakistan: An Evaluation
Ambassador Shafqat Kakakhel, Chairman Board of Governors, Sustainable Development Policy Institute, Islamabad
Press release
Media Coverage
Newspaper Coverage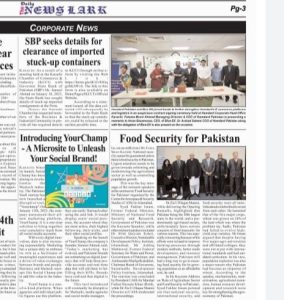 Post Event Report