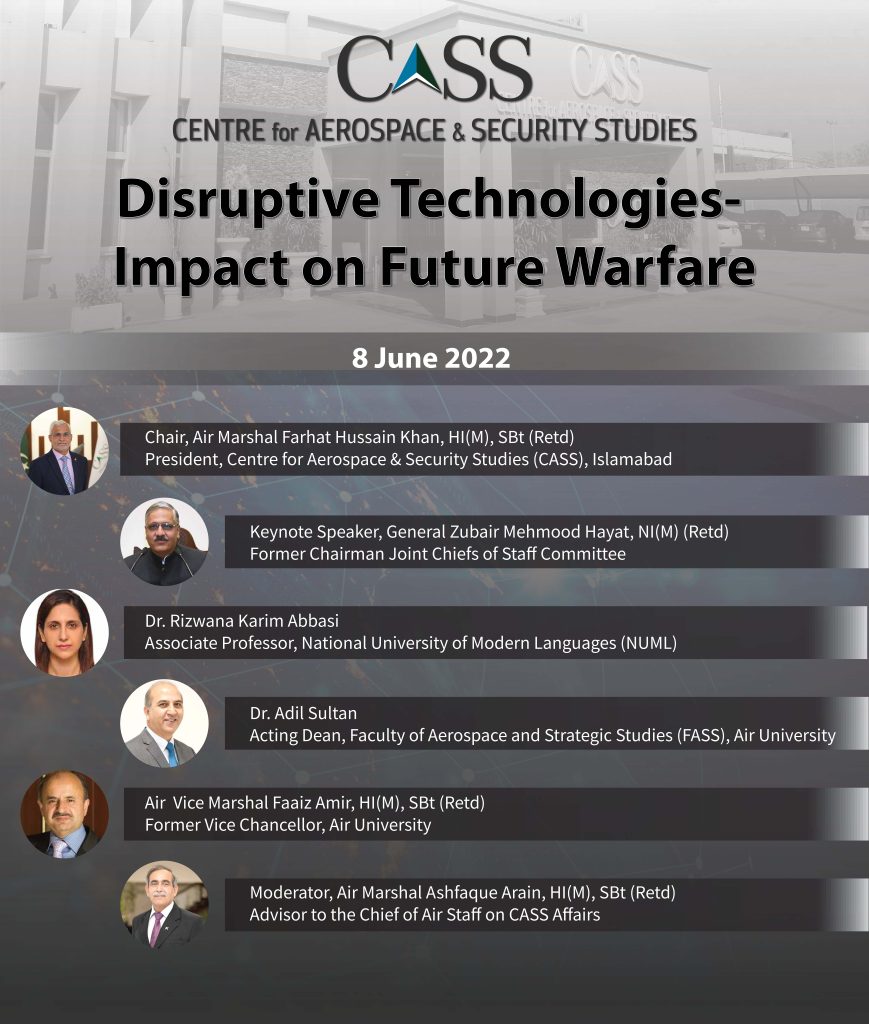 Marriott Hotel, Islamabad
Disruptive Technologies – Impact on Future Warfare
General Zubair Mehmood Hayat (Retd) 
The Centre for Aerospace & Security Studies (CASS) is organising a seminar titled 'Disruptive Technologies – Impact on Future Warfare' on 8 June 2022 at Marriott Hotel, Islamabad.
Keynote Address: Disruptive Technologies: Risks and Opportunities
Technological advancements are essential to economic growth and development and aim to improve peoples' living standards. While many technologies have military applications, very few are developed for military purposes. Emerging technologies, also called 'disruptive technologies', have the capability to displace an established technology and shake up the industry or introduce a ground-breaking product that creates a completely new industry.
New technologies offer enormous opportunities for civilian as well as defence sectors, but also present new vulnerabilities and security challenges. State actors, non-state actors as well as individuals have greater prospects of exploiting many of these easily accessible technologies in inventive and disruptive ways. They also provide opportunities to smaller states to offset military asymmetry. In an endeavour to stay ahead, rapid technological advancements have, therefore, resulted in increasingly intense technological competition, gradually shifting towards rivalry between states.
Emerging Disruptive Technologies (EDTs) such as Artificial Intelligence, quantum computing, advanced materials, hypersonic weapons, biotechnologies, and robotics are likely to bring about major changes in the world in general and trigger major doctrinal and strategic shifts in the military domain in particular. In this regard, a key question, therefore, is in what ways technological advancements are likely to affect military doctrines and strategy in the future, considering the dynamic character of interdependence between technology advancement and its adaptation in military affairs. The question also gains greater significance in case of nuclear-armed adversaries with unresolved disputes, mutual distrust, and shared borders, significantly reducing reaction time. 
CASS' research in this area has shown that EDTs will have significant and ever-expanding impact on military and non-military affairs in the future, thus, entailing greater significance for a country's security, economic growth, and scientific prowess. Pakistan, as a developing country, needs to take advantage of the benefits these technologies offer and secure itself against their potential threats.
This seminar titled 'Disruptive Technologies – Impact on Future Warfare' aims to bring together a core group of experts, academia, and practitioners to critically analyse latest developments and future trends in this area and explore options to reap greater benefits while ensuring safeguards against possible threats to the country's national security. 
Recommendations by the experts would help educate the public in general and provide input for policymakers to formulate strategies for making a robust technology development, research and acquisition plan.
Recitation from Holy Quran
Introduction by Moderator
Air Marshal M Ashfaque Arain (Retd), Advisor to Chief of Air Staff, PAF on CASS Affairs
Keynote Address Disruptive Technologies: Risks and Opportunities
General Zubair Mehmood Hayat (Retd), Former Chairman Joint Chiefs of Staff Committee
Key Questions
What will be the major political, societal, economic, and environmental trends that will shape the use of disruptive technologies in the future strategic context and define operational needs?
How can benefits of disruptive technologies be harnessed for national progress?
What are the risks associated with unbridled use of disruptive technologies?
How can the opportunities and risks be balanced?
Question and Answer Session
Air Marshal M Ashfaque Arain (Retd), Advisor to Chief of Air Staff, PAF on CASS Affairs
Concluding Remarks/ Vote of Thanks
Air Marshal Farhat Hussain Khan (Retd), President CASS, Islamabad
Impact of Disruptive Technologies on Military Doctrines and Strategies
Dr Rizwana Abbasi, Associate Professor, National University of Modern Languages (NUML), Pakistan
Key Questions
How are disruptive technologies affecting military doctrines and strategies?
What are the risks associated with changing doctrines?
How can technologically dependent states counter technologically advanced states?
Disruptive Technologies and Strategic Stability
Dr Adil Sultan, Acting Dean Faculty of Aerospace and Strategic Studies (FASS), Air University, Pakistan
Key Questions
How are disruptive technologies affecting strategic stability between rival powers?
Can these technologies help in enhancing strategic stability?
Impact of Disruptive Technologies on Future Wars in South Asia
Air Vice Marshal Faaiz Amir, Former Vice Chancellor, Air University, Pakistan
Key Questions
What is the status of disruptive technologies' development / acquisition in South Asia?
What are the options for technologically developing countries to counter disruptive technologies?
How would such technologies change future wars and strategic stability in the region?
Which force is likely to play the lead role in future wars?
Distribution of Shields/Group Photograph
Our 5,000 attendees are looking to stay on top of the latest trends, meet their next client or partner, and connect with other people interested in the future of technology.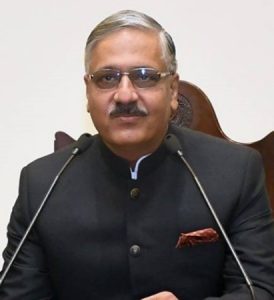 Commissioned in 1976, General Zubair Mahmood Hayat had a decorated military career that spans over four decades. He is a graduate of Fort Sill Oklahoma (USA), Command and Staff College, Camberley (United Kingdom) and National Defence University (Pakistan). He has two Masters Degrees in War Studies and Military Science. He is also a recipient of 'Humanities Gold Medal', 'Master Gunner Award', and 'Master War Fighter Award'.
Dr Rizwana Abbasi is presently serving as Associate Professor at the National University of Modern Languages (NUML). Previously, she was serving as Associate Professor in the School of Humanities and Social Sciences in Bahria University, as well as in National Defence University, Islamabad. Dr Abbasi is a fellow of East West Institute since May 2018. She received her PhD from the University of Leicester, UK, specialising in International Security and Nuclear Non-proliferation. She was also a post-doctoral research fellow and has taught at University of Leicester. She is also a graduate of the Daniel K. Inouye Asia-Pacific Center for Security Studies, Hawaii.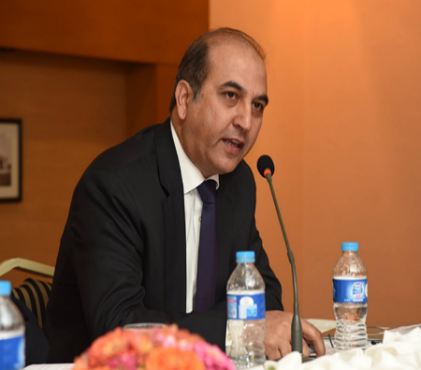 Dr Adil Sultan is Acting Dean Faculty of Aerospace and Strategic Studies (FASS) and Chair Department of Strategic Studies (DSS) at the Air University in Pakistan. Earlier, he served as a Director at CASS and a Visiting Research Fellow at Centre for Science and Security Studies (CSSS), King's College London. He had also been a Visiting Fellow at the International Institute for Strategic Studies (IISS) London in 2015 and a Visiting Fellow at the Henry L Stimson Centre, Washington, D.C. in 2006.

© 2022 CASSTT ALL RIGHTS RESERVED
CASS (Centre for Aerospace and Security Studies), Old Airport Road, Islamabad, Pakistan.
+92 51 5405011
cass.thinkers@casstt.com
career@casstt.com
 All views and opinions expressed or implied are those of the authors/speakers/internal and external scholars and should not be construed as carrying the official sanction of CASS.